The NIHR Oxford Biomedical Research Centre is a collaboration between the University of Oxford and Oxford University Hospitals NHS Foundation Trust to fund medical research.
What are the big social challenges and #ethical questions surrounding #PersonalisedMedicine? That was the topic of an event we organised with @CPMOxford earlier this year. You can watch most of the talks here: https://t.co/FUP7NhjRPa
Twitter feed video.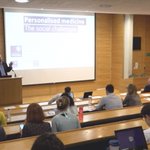 Load more Tweets...
Upcoming Events & Courses
Public Events
Friday 13 September @ 3:00 pm
-
4:30 pm
Saturday 14 September @ 12:30 pm
-
4:00 pm
Academic Events
Tuesday 3 September
-
Thursday 5 September
Training Days
Friday 13 September @ 8:30 am
-
5:00 pm
Featured Videos
Researching the role of the brain in breathlessness
Artificial intelligence: how to ensure it benefits patients.
Breakthroughs in Asthma Treatment - Prof Ian Pavord
Stopping the Spread of a Superfungus in Intensive Care - Dr Katie Jeffery and Dr David Eyre
Dr Tim Walker - Tackling the TB pandemic by reading its DNA
How do vaccines work?
Introduction to the NIHR Oxford Biomedical Research Centre